CNC Laser/Plasma Cutting Table
Description
The BODA CNC laser/plasma cutting table is a perfect combination of plasma cutting machine and laser cutting machine. The appearance is concise and beautiful. Both thin and thick steel plates can be handled—the laser cutting torch is for steel plates thinner than 2 mm, and the plasma cutting torch is for 16 mm or thicker plates. The maximum cutting size is 1500 mm × 5500 mm. Both of the laser source and plasma source are optional according to client's requirements. The layout of the machine is reasonable and concise. Target materials include various kinds of metal, especially the sheet metal components.
Feature
1. Reasonable structure.
A table type structure is adopted for our CNC laser/plasma cutting table, and the cutting table is separated with the machine's CNC system. So the deformation degree during the cutting won't be influenced by high temperature cutting.
2. Convenient shipping.
The machine is specially designed that the installation site requirement is low and the installation and shipping is quite simple. For customers who need to frequently change the working place, this convenient shipping property is very important. The completely enclosed type structure of the CNC metal plate cutter looks very nice.
3. Durable girder.
The girder is wide and process by welding. The whole structure has been subjected to thermal treatment, leading to destressing, little deformation, durability. Thus the CNC laser/plasma cutting table can work for a long time with stable precision.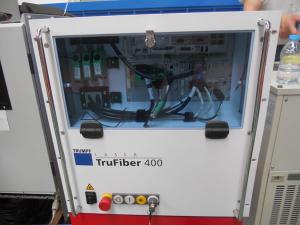 4. Stable fiber laser source.
The fiber laser source is imported from famous company. Fiber laser source, as the most stable and mature product in the present laser industry, is suitable for continuous and large-scale cutting operation. The machine has great cutting performance, including smooth cutting edge, accurate positioning, high precision (less than 0.2 mm). Besides, the cutting productivity is quite satisfactory.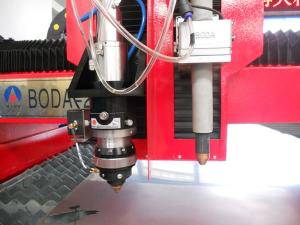 5. Incorporated plasma and laser cutting device.
The plasma cutting torch and laser cutting torch are installed in the same transverse moving station. The 400 W laser power is suitable for cutting steel plates with thickness from 0.5 mm to 2 mm, while the plasma, which is customizable on requests, can cut 3-80 mm plate. Thus the CNC laser/plasma cutting table can cut both thin and thick plates. So it is suitable for clients who have the corresponding needs. The cost will also be lowered.
Machine parameter
| | |
| --- | --- |
| Transverse rail interval | 1500-2500 mm |
| Effective cutting width | 1000-2000 mm |
| Drive method | Double sided AC servo motor; Rack and pinion transmission system |
| Lengthways rail length | 4500-7500 mm |
| Effective cutting length | 1500 mm less than lengthways rail length |
| Idle running speed | 12000 mm/min |
| Cutting speed | ≤10000 mm/min |
| CNC system | Imported CNC system |
| Cutting torch number | 2 |
| Laser source power | 400 W |
| Laser cutting thickness | 0.5-2 mm |
| Plasma cutting thickness | According to the different plasma |
Cutting sample