Robot Arm Laser Cutting Machine
Description
This robot arm laser cutting machine is a kind of fiber laser cutting machine. It is mainly used for cutting plates with a thickness of 0.5-2 mm and 3D components. The price and maintenance cost are both very low, and the maintenance operation is also very simple. The robot arm and its operating system are from Switzerland ABB Group. It has a six-axis motion system, making the cutting process quite flexible. The laser source is from Germany TRUMPF Group, which is famous for its laser machinery. Thus the cutting performance is excellent—the cutting edge is smooth, bevel-free. The cutting process is very fast.
Thus far, this robot arm laser cutting machine has been used for the 3D components and metal upholstery manufacturing in many fields, such as automobile industry, construction machinery industry, aerospace industry, and hardware industry. Typically, this cutting machine is widely adopted for manufacturing automobile components, such as general parts, body, door, boot and roof, leading to less development period, higher productivity and cutting precision, and lower production cost. Automakers and relevant components suppliers can use this robot laser cutter to improve their competitiveness remarkably.
Feature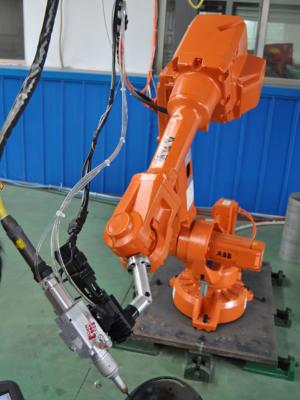 1. Great cutting flexibility and precision.
The six-axis motion technology is adopted, making the cutting process super flexible. So the robot arm laser cutting machine can meet the requirements for 3D cutting, while the cutting edge is smooth enough that the further process is quite simple.
2. Multi-joint design and high degree of freedom.
The robot is from ABB Group, so the universality and adaptability are both great. Its loading capacity is customizable according to your requirements. We can optimize the design according to the technical properties.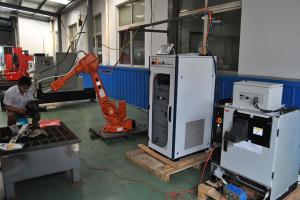 3. World-wide famous brand laser source.
The laser source of our robot metal cutting equipment comes from Germany TRUMPF Group, which comes with matching nesting software. Under the same circumstances, our robot arm laser cutting machine has higher cutting speed and cutting performance.
4. Small size.
This machine is quite small, and can be easily incorporated into the automatic production line. The energy consumption per unit product and main technique energy consumption has reached the advanced level in this industry.
5. Pollution-free cutting operation.
No dust, smoke, irritant gas, or any other kinds of pollution will be produced in the cutting process. So the dust removing system will be saved, so is the corresponding cost.
Machine parameter
| | |
| --- | --- |
| CNC system | Imported CNC system |
| Cutting speed | ≤10000 mm/min |
| Laser source | Germany TRUMPF brand |
| Cutting torch number | 1 |
| Laser resource power | 400 W |
| Cutting thickness | 0.5-2 mm |
Cutting sample