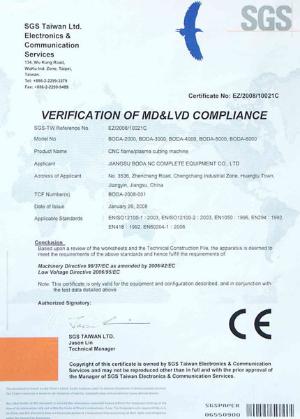 1. Great sales achievement and various honors are the demonstrations of our great products and service. After 15 years of development, BODA has become one of the TOP 3 CNC cutting machine companies in terms of comprehensive strength in Mainland China. Our products have been exported to America, Greece, Korea, Mexico, Russia, Israel, New Zealand, Pakistan, Brazil, Dubai, Singapore, Burma, Australia, Qatar, South Africa, Malaysia, India, Lithuania, Syria, Kazakhstan, Saudi Arabia, Thailand, Chile, Georgia, Nigeria, Vietnam, Bulgaria, Indonesia, Venezuela and so on.
In 2008, we got the CE certification from SGS and started to enter the EU market. According to the Welding and Cutting Industry Association's annual report, from 2004 to 2013, our sales ranked No. 1 in Mainland China. In 2008, we had sold more than 600 sets of equipment, which worth 136 million RMB.
In 2004, our products were awarded the "Reliable Products of Jiangsu Province" certificate by the Jiangsu Commodity Quality Investigation and Supervision Office and the Jiangsu 3.15 Customer Complaint Supervision and Follow-up Investigation Office. In 2006, BODA was awarded the "Quality-oriented & Credible Leading Company" prize and the "Quality Credibility & Service AAA Grade Membership Company" certificate by Chinese Quality & Credit Supervision and Regulation Association.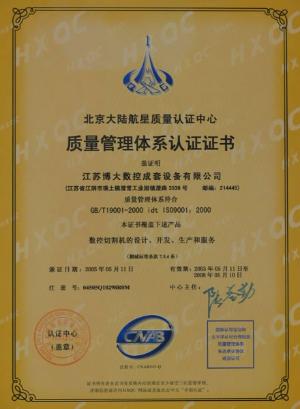 2. Advanced management system and creative talents have ensured our products' qualification rate and high-tech level. With more than 15 years of development, BODA has established an effective management system. In the workshops, we have been enforcing the "7S"management system, where the "7S" stands for sorting, straightening or setting in order to flow or streamlining, systematic cleaning, standardize, sustain, safety and saving. For the quality management, according to the ISO9001 quality management system, we won't let an unqualified spare or component part to be used in the equipment, and unqualified products never go to the market.
In addition, we have also invested much capital on the introduction and cultivation of talents. The in-house expert team comprises senior and intermediate technicians, and talents with the equivalent of master's degree or higher. They are responsible for the research and development of advanced technology, as well as new products. As an important part of our core competitiveness, this stable and creative talent team has contributed a lot to BODA's thriving.
3. Our excellent partners provide us with authentic and high-quality components and accessories.
BODA has become the largest buyer for American Hypertherm and Germany Kjellberg in Mainland China. We purchase plasma power directly from the place of origin and enjoy the lowest OEM price. In addition, Japanese Mitsubishi, German Neugart, Australian FastCAM, American Victor and Kaliburn are also our long-term cooperation partners.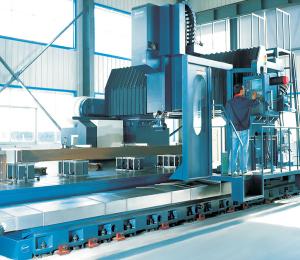 4. Our outstanding R&D team and high-tech equipments lead to increasingly advanced and high-precision products.
Except for necessary machines like lathe, planer, mill, grinder and drilling, in 2005, BODA imported 3×8 m gantry pentahedron CNC machining center, costing us more than 6 million RMB. In 2008, we purchased the floor type CNC boring and milling machine, which worth more than 1 million RMB, for high precision mechanical processing. Currently, these facilities are still the most advanced ones for domestic private CNC cutting machine manufacturers.
We founded the New Product R&D Center jointly with Shanghai Jiao Tong University in 2004. This center successfully invented BODA CNC system and BODA CNC pipe cutting machine. Besides, we developed unlimited rotary plasma bevel-cutting machine, CNC plasma cutting and drilling machine, precision rack CNC flame cutting machine, PAC series plasma cutting machine and arc voltage automated height controller, which have filled the gap in domestic industry.